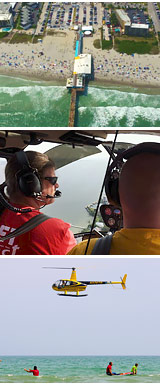 Fly a helicopter above Florida's pristine Cocoa Beach! This amazing journey is superior to many other introductory helicopter flights in that it's not just a quick hover attempt.
Your hands on excursion lets you man the controls for the entire ride and what's more, you can even bring a friend along for the adventure! Your introductory Helicopter flight in Brevard County includes:
15-minute pre-flight FAA briefing
10-minute introductory helicopter flight over cocoa beach
Bring a friend along as a passenger for free!
At the launch site, you'll get a brief but comprehensive ground lesson where you'll learn the ropes and safety protocols while practicing around the runway. Next, take off to beautiful Cocoa Beach to navigate hundreds of feet above the pier and its many dazzling attractions. If you're up for a thrilling challenge, it doesn't get much better than this!