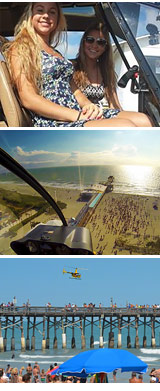 This unique helicopter tour sends you soaring hundreds of feet above Florida's grandiose cruise lines.
Merritt Island Airport is where the excursion begins. From there, you take off over Merritt Island and make your way to Banana River. The lagoon swarms with amazing marine life, including stingrays, dolphins and manatees. After that, hover high over Cocoa Beach Pier and its exciting attractions.
The next leg of your journey takes you over a slew of awesome cruise liners including Carnival Cruise Lines, Disney, Royal Caribbean and Norwegian. Snap a few photos as luxury liners depart from port and wave bonne voyage to the travellers below. Your Cocoa Beach helicopter tour includes:
17 minute Helicopter flight over Banana River, Cocoa Beach Pier and Port Canaveral
Overhead views of luxury cruise liners and the Kennedy Space Center
Perfect photo opportunities from 1,000 feet in the air!
And if you're a space enthusiast, know that you'll also get a great look at the Kennedy Space Center. By far, this is one of the most versatile sightseeing jaunts on the East Coast!
Book your ride today!