Receive $15 OFF when you spend $79 or more in one transaction. Simply enter the promo code 15FINAL at checkout. Limit of one promo code per purchaser per transaction. Not valid for Gift Certificate redemptions or in conjunction with the $250 Gift Certificate promotion.
Free Exchanges on all Gift Certificates
14 Day Returns on all Gift Certificates
Gift Certificates valid for 5 years
Free Shipping for Gifts over $119
Safe & Secure online Shopping

Aerobatic Flight Chicago, Extra 300L- 30 Minutes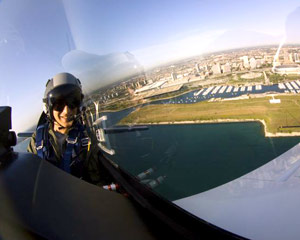 Item:
AE14650RO
Location: Aurora Municipal Airport (Sugar Grove)
This item is

sold out.


You may also be interested in:


Safe, Secure Shopping
Description
The Extra 300L is a legitimate aerobatic air race craft, capable of speeds reaching 250 mph, a roll rate of 400 degrees per second and can climb 3200 feet a minute. This aircraft is a little beast waiting to thrill anyone who dares to hop in its cockpit.
After a bit of ground training and a thorough inspection of the aircraft the real excitement begins. As you jump into the Extra 300L the adrenaline starts to pump, you will then strap on your military flight helmet which has in-flight communication with your chief pilot. If the flight is to wild you can ask the pilot to turn it down a notch, if the flight is too mild you can ask the pilot to turn it up, but be careful what you wish for because this experience is no joke!
You will experience barrel roll after barrel roll, inverted flight, 8 positive G's and 8 negative G's and an insane vertical climb that will have you screaming for mommy!
Intensity:
4.0

Reviews
The whole experience was great! Jarod was a wonderful pilot and very professional. I enjoyed my flight!
Experience Details
Fitness and Experience
No level of fitness is required
Minimum 18 years of age
Must weigh 260 lbs. or less
What to Bring/Wear
Clothing appropriate for the weather on day (dresses and skirts are not suitable)
Rubber soled enclosed footwear
Camera for ground shots (in-flight pictures are not allowed as this is an aerobatic flight)
Family and friends
Plenty of courage!
What is Supplied
Military flight suit
Fighter pilot style helmet
Full safety mission brief
30 minute flight
More Information
Fights are available 7 days a week at 9:00 AM, 11:00 AM, 1:00 PM and 3:00 PM
Allow 2 hours for the experience
$60 for video of your flight (payable on the day)
Please note that all passengers will be required to sign an acknowledgment of risk on the day of the flight.
Related Experiences or Products
With planes capable of going up to 250 mph and climbing up to 3200 feet per minute, your pilot will take you through an aerobatic routine you'll never forget. Barrel rolls, straight up loops, inverted flights, insane vertical climbs and more may all be part of a routine that is as wild or mild as you like. Book Now!
Why Choose Adrenaline?
Low price guarantee
Fully flexible gift certificates
Gift certificates valid for 5 years
Certificates valid for any experience
Expert consultants
Thousands of reviews
Safe & secure shopping
FREE Shipping for orders over $119